Published Saturday Oct 24, 2020
Experience the Contours Rx COLORSET All-In-One Pencil for Yourself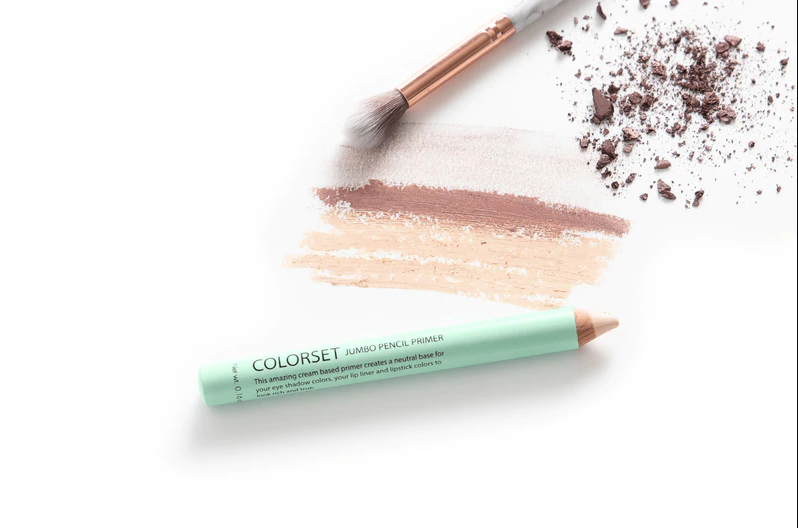 Create a smooth base for your eyes and lips with this organic, cream-based, neutral-toned pencil. But it does not stop there! This formula is so universal; it acts as a primer, highlighter, and brightener for eyes, lips, and brows while concealing dark circles and contouring around the face. The texture created is an ideal base for maximizing eyeshadow pigments and can be used to help brighten and contour your eyes, brows, and lips for a glowing, polished finish!
My first contouring experience
I first learned to apply makeup in the 1990s; my mother and Glamour magazine taught me. But the only "contouring" they showed me was how to apply blush on the cheekbones-- two fingers' width away from the outer corner of the eye!
Fast forward to the present day. My 13-year-old is learning how to apply makeup from YouTube and informing me that I am doing it all wrong. She requires blending sponges and brushes and other tools I have never seen. One of the innovative concepts in the digital, selfie, and YouTube culture is contouring. Contouring, it seems, was a new concept only to me. My daughter would come out of her room from a makeup session with YouTube, looking painted and colorful. But also with sophisticated underlying tones and highlights. When properly blended, she glowed, something that my makeup routine had never done for me! I decided it was time to try some contouring for myself.
This is where the Contours Rx
COLORSET All
-
In-One Pencil
comes in. I received my Contours Rx products recently in the mail, and the COLORSET Pencil was the first thing I wanted to try. I'd seen the pictures on the website of how to use the pencil to enhance the lips. I thought it would be an excellent place to start since it looked much simpler than trying to contour my cheekbones or collarbone. (Which, by the way, can be done with the same pencil!)
I applied the primer to the center part of my lips, as shown in the picture. Easy and smooth. I also used the pencil as a lip liner. I had to blot that part a little before applying my regular lip liner. Once I had my lipstick applied, my lips looked great. It was a subtle difference, but they looked younger and fuller. Such an easy way to improve my look! And it feels soft and helps the lipstick last longer.
But wait-- there's more! As I worked with the lipsticks, I decided to try the COLORSET Pencil on my dark under-eye circles. I dotted the primer along the area and gently blended it in, then applied my foundation. The dark circles were slightly better but still visible. So, I used the pencil again. What a difference! The pencil seemed to fill in and smooth my wrinkles; what an easy solution to those dark circles! I looked younger and even had a little glow to my skin.
Now that I've become accustomed to using the pencil in my makeup routine, I find that keeping an extra one in my handbag is a must. When out and about, I can quickly add some light to tired eyes or cover sunspots as needed. These days, wearing a mask means having your face get sweaty and your makeup not looking great. But having the All-In-One Pencil helps me feel fresh and bright whenever I have the opportunity to take off my mask. It also helps keep my eye makeup looking better all day.
The most recent trick I discovered happened tonight. I'd taken my daughter to a meeting and did not intend to stay. At the last minute, they needed another parent. I had not worn much makeup, so I quickly applied whatever I could find in my bag before getting out of the car. One of the essential parts of my eye makeup is the eyebrow pencil. As I've gotten older, it is vital to filling-in my too-light eyebrows. The dark-brown eyebrow pencil I had is an "all day, super stay" kind. But when I went to the ladies' room midway through the evening, I could see a dark brown smudge just below where my eyebrow is in the bright lighting. Oops! There was no just wiping it off. My Contours Rx COLORSET All-in-One Pencil to the rescue! I was able to disguise my too-thick brow in an instant.
It has now become one of my top 3 must-have at all times makeup products: lipstick, mascara, and the Contours Rx COLORSET All-in-One Pencil.
I look forward to using the COLORSET pencil to do even more contouring. It is a whole new world, and I intend to make the most of it!
Features of the Contours Rx COLORSET All-In-One Pencil!
Diminishes the appearance of uneven skin tones and creates a smooth canvas for optimal eyeshadow application.
Lightweight formula contains texturizing elements that help enhance the full color of eyeshadow pigments.
Contains coco-glycerides, a naturally derived emulsifier and skin-conditioning agent with decontaminating benefits. No drying out; keeps application areas moisturized.
Easily spreadable and glides on effortlessly with a silky feel.
Pencil design provides precise and controlled application.
Highlights, brightens, conceals, and primes.
Try the Contours Rx COLORSET All-in-One Pencil today. I know I'm glad I did!