Published Wednesday Sep 14, 2022
How To Tighten Neck Skin Without Surgery - Saggy Neck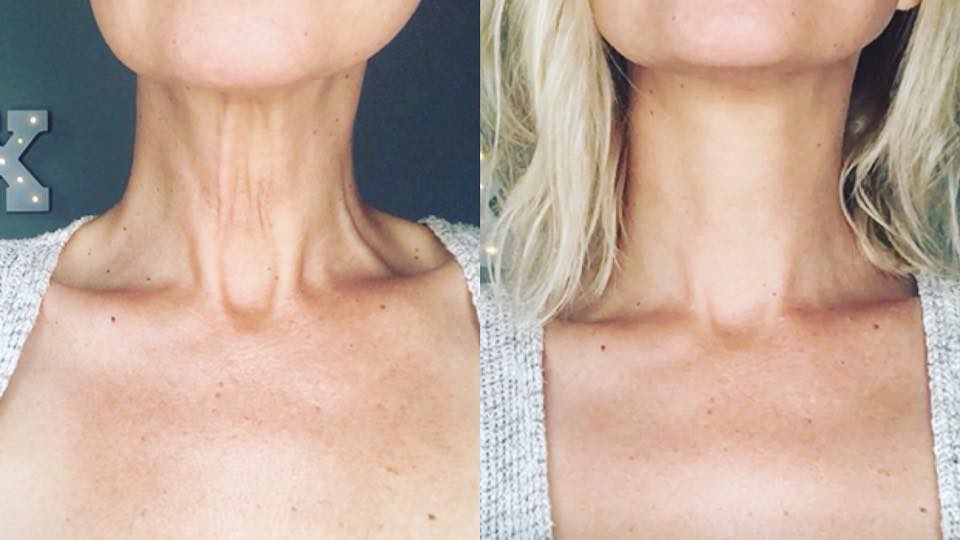 Our faces undergo many changes as we age; perhaps none are more noticeable than those in the neck area. While some products and treatments claim to improve the appearance of the neck through either tightening or toning, experts agree that, in most cases, these are minimally effective. There are also neck-tightening exercises that claim to slow down the aging process or the changes associated with it. However, before relying on any of these tips, one must understand the aging process and gravity's effect on our skin. Don't forget that aging is a gradual process, with changes occurring in different areas of the face at different times.
It is interesting to see that the changes in the neck area bother people the most, although it is the last part of the face to age.
Two primary factors contribute to neck aging. The first is the presence of deep fat pads under the platysma muscle, which supports and controls the movement of the neck muscles. As we age, these fat pads begin to break down, gradually weakening the structure of the neck muscles. Additionally, as we grow older, our faces change shape, losing their youthful contours and causing the neck muscles to become unsupported. This can dramatically affect skin elasticity, preventing the neck from holding its form and causing it to sag over time.
As bothersome as it is, there are several ways to achieve neck tightening and maintain a youthful appearance well into your golden years. Skincare routines, cosmetic treatments like Botox or fillers, or a neck lift are a few ways to recontour your neck.
What is a Neck Lift?
A neck lift is a cosmetic procedure designed to enhance and improve the appearance of the neck area. This procedure helps to remove excess fat and skin from the neck to give it a tighter, smoother appearance. Many patients choose to undergo neck lift surgery in conjunction with facelift surgery to achieve more consistent results for the face and neck.
To determine if neck lift surgery is suitable for a patient, a plastic surgeon will assess several factors, including their general health and medical history, as well as their neck anatomy and aesthetic goals. A mini neck lift may be sufficient if minimal neck tightening is needed. However, more extensive revisions may require a complete neck lift procedure. Regardless of the type of neck lift chosen, the end goal is always the same: an enhanced and more youthful-looking neck contour.
Non-Surgical Neck Lift Procedures
A neck lift is expensive and involves going under the knife – an option unsuitable for many. With advancements in science and technology, people can now choose non-surgical procedures to remove loose skin on the neck.
Kybella: It involves an injection targeting the fat beneath the chin. It requires several in-office visits and a few days to recover from the post-procedure swelling.
Filler: It is a temporary neck skin tightening solution that resolves fine, superficial lines. This is not an appropriate solution for someone with moderate to severe sagging.
Botox: It is a divisive treatment used to treat the vertical band-like lines on the neck by relaxing the neck muscles. Always consult a board-certified plastic surgeon to know if it's the right non-surgical neck tightening solution for you.
Ultherapy: Another minimally effective procedure, Ultherapy is often marketed as a neck skin tightening and lifting treatment. However, in most cases, it is seen to improve only the skin tone and texture.
While there are many non-invasive options, the biggest problem is that the results are temporary, time-consuming, and costly. A common downside of these treatments is that they focus on the neck's upper level without addressing the entire area.
Non–Surgical Neck Lift Cost
The results of non-surgical neck lift procedures are temporary, and although they don't cost as much as a neck lift surgery, there is some expense involved as you may need to repeat the procedures to get the required results.
Botox is one of the most popular cosmetic procedures in the world and is typically performed in under an hour. The average cost of Botox is about $400, which is reasonable compared to other surgical procedures but not as effective.
Injectable dermal fillers cost about $625 to $800, and the results last anywhere from 6 to 12 months.
Kybella, another non-surgical neck lift, costs about $1,100. However, it may require you to repeat the procedure up to four times.
While Ultherapy can last up to a year, it is one of the most expensive non-invasive neck tightening procedures costing around $2,200 for one treatment.
The non-surgical neck lift cost is significantly less than the average cost of a full neck lift surgery of about $6,000 to $8,000, making it more attractive to patients of all ages and genders.
If you are tired of the loose skin on your neck and want to fix it, discuss your concerns and specific needs with your surgeon to determine which type of neck lift procedure best suits your needs and budget.
After going through all the options, if you feel that the non-surgical neck lift procedures are not the solution for you, look at the revolutionary solution by Contours Rx, the NECK RESCUE. While all the non-invasive procedures are comparatively safe, there are still chances of side effects, and you cannot ignore the cost involved, especially if you need to repeat it.
So you may be looking for an affordable, effective, and safe solution, like the NECK RESCUE instant correcting strips. This wearable technology improves the appearance of the neckline within seconds.
In addition to tightening the skin on your neck, it improves the neckline and jawline, making you look younger and refreshed. It is the safest and fastest non-surgical neck lift solution that is comfortable and easy to use, and you can cut the strips into your desired size to help you achieve the look of the day!
Youtube Link: https://www.youtube.com/watch?v=315bFWkEbEs&ab_channel=ContoursRx
The strips become invisible on contact with the skin and give you a flawless, younger-looking neckline. The instant result saves you the worry and money of undergoing a neck lift procedure, and you can get ready for a special occasion within seconds.
Product page: https://contoursrx.com/products/neck-lift-tightening-strips
Check out our articles: