Published Friday Dec 04, 2020
Uneven Eyelids - How To Easily Fix Asymmetrical Eyes Without Surgery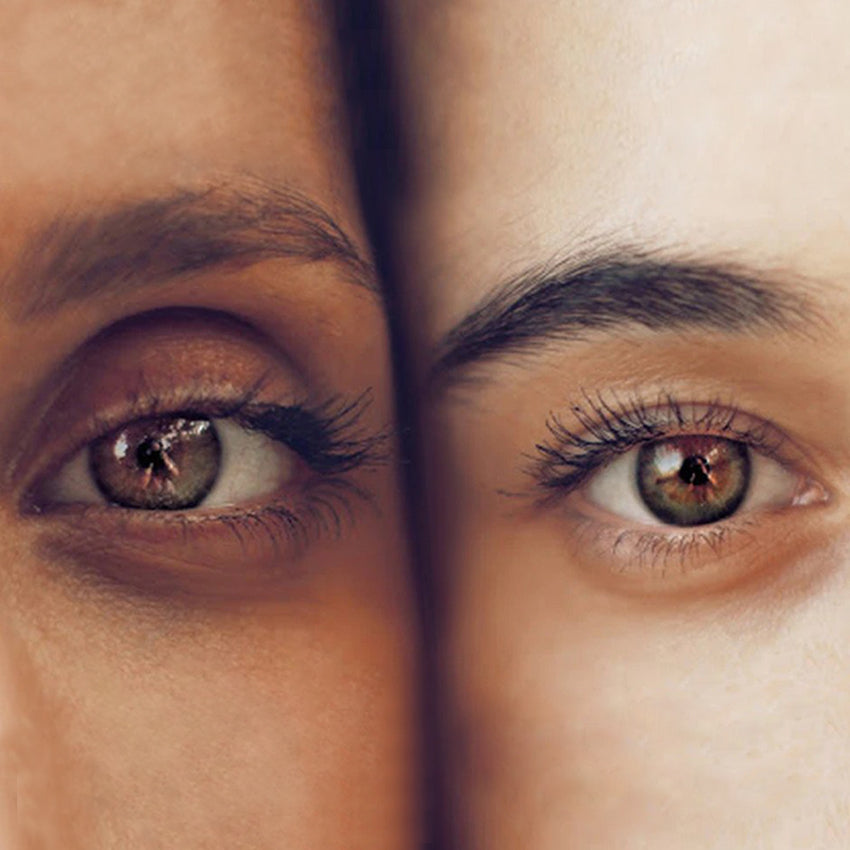 When you look at someone's face what do you naturally focus on? Their eyes. That's why asymmetrical eyes have such a big effect on someone's appearance.
The good news is you can fix uneven looking eyes. If you're concerned about the risks or cost of surgery, then there's even more good news.
You can even fix asymmetrical uneven looking eyes without surgery.
This post will show you how. There are two ways to easily and dramatically improve the appearance of asymmetrical or droopy eyelids without surgery. You'll also get some more info on surgical solutions, so you can be in the know about the risks involved.
But before getting into how to fix asymmetrical eyes, it's helpful to know what causes eyes to look uneven in the first place.
Why Do My Eyes Look Uneven?: Common Causes of Asymmetrical Eyes
It's true that facial asymmetry is perfectly normal, but some people develop more noticeable differences between their eyes than the average person. There are a variety of causes for these differences. Some are natural, and others are due to medical conditions. Aging is one of the most common causes for uneven eyes.
Aging Can Cause Asymmetrical Uneven Eyes
As people age it becomes more likely that they'll develop uneven eyes. According to a study of facial symmetry published in The National Library of Medicine, as people age facial asymmetry tends to increase.
The reasons for this could be due the soft tissues in the face changing shape over time. Another contributing factor may be asymmetrical growth of the skeleton as old bone tissue is naturally replaced by new bone tissue. The changing elasticity of skin as you age may also contribute to an uneven appearance.
Eyelids also tend to droop when you get older. The muscle supporting eyelids can weaken overtime. This causes them to sag, and can make eyes look uneven.
Genetics Can Cause Asymmetrical Eyes
Most people are born without perfect facial symmetry. Genetics are a natural cause for uneven eyes. Genetically uneven eyebrows, or the shape of someone's nose may also contribute to the appearance of asymmetrical eyes.
Genetically uneven eyes are not a cause for concern. They are common and generally don't interfere with anyone's health. Most genetically uneven eyes aren't very noticeable. Especially compared to uneven eyes caused by more serious medical conditions.
Medical Conditions Can Cause Asymmetrical Eyes
A variety of medical conditions from physical trauma to disease can cause eyes to become asymmetrical.
Some common medical causes include:
Enophthalmos
This condition causes the eye to appear sunken. Eyelids may also look retracted. It's not unusual for people with enophthalmos to have noticeably uneven eyes.
Ptosis
People affected by ptosis have eyelids that look droopy. It can affect one or both eyelids. It's more common in older people, and generally isn't a cause for concern. But ptosis can be dangerous if the eyelid droops enough to block someone's vision.
Proptosis
Proptosis causes the eye to protrude forward. It gives the appearance of eyes that are bulging. This condition may also come with more serious symptoms of pain, and pulsing of the affected eye.
Bell's Palsy
This condition only affects one side of the face. It causes the affected side to become paralyzed. This affects the eye causing it to droop along with the mouth.
How to Fix Asymmetrical Eyes Without Surgery
There are a few viable solutions to fixing asymmetrical eyes without surgery. These methods, while temporary, are effective. With them you can give your eyes the appearance of being even and symmetrical.
These methods can be reapplied as often as needed. You can use them on a daily basis, or as needed for special occasions.
The first, and most effective, way to make your eyes look even without surgery is Eyelid Tape.
Think of eyelid tape like one a day contact lenses. They're invisible and once you put them on you can wear them all day. After putting them on you'll instantly see the difference.
Eyelid tape works by lifting skin sagging over your eyelid. You can use them to lift one or both of your eyes to give them a more symmetrical and youthful appearance.
It's much more immediately cost effective and safe than surgery. It also gives you all the same benefits. If the eyelid tape is well made it should also be comfortable to wear too.
The Lids By Design Instant Eyelid Correcting Strips from Contours Rx is an eyelid tape that only uses high quality materials. They're lab tested and latex free to make sure they're safe, and as comfortable as possible.
They're also available in multiple sizes. This gives you a lot of control over how much you lift each eyelid. It can be difficult to match the appearance of one eye to the other. So having control over how much to lift each eyelid helps. 
After trying Lids By Design Instant Eyelid Correcting Strips for yourself it's easy to see that they're effective. We've even seen some people use their Instant Eyelid Correcting Strips to fool surgeons.
One of our customers Kristen told us this funny story about her experience. "After being turned down for surgery due to my hooded lids, I tried Lids By Design. Well the joke was on the surgeon, because the next time I saw him he actually said, 'Oh you had your lids done by someone else. Wow they look great!' Fooled him, and got to skip the ordeal of surgery."
You can see eyelid tape by itself is enough to correct asymmetrical eyes and improve their appearance. But if you want to try another non surgical method, makeup can also help.
Makeup
By applying makeup to certain areas of the eye lids you can create the illusion of symmetry.
This method is not as effective, because you're not physically altering the eyes or eyelids in any way, but it can help make a difference in your appearance.
Eyeliner and eye shadow can be used to change the appearance of your eyes. By applying makeup unevenly on one eye you can change its appearance. This creates the illusion that the eyes are more even. Styling your eyelashes can also make one eye appear larger or more open.
Makeup used in a combination with eyelid tape can be a great way to drastically improve the appearance of your eyes and make them look even. Although eyelid tape is usually enough.
Of course makeup is temporary. There are other more permanent solutions to fix eye asymmetry, but they come with a high cost and more risks.
Pros and Cons of The Surgical Procedure Blepharoplasty
Blepharoplasty is a surgical procedure to make the eyes look even by fixing baggy, droopy, or uneven eyelids. It's a voluntary cosmetic procedure done primarily to improve someone's appearance. In some cases it might also be done to improve someone's vision.
The surgery itself involves cutting along the fold of one part of the eyelid. Then removing sagging skin, muscle, or fat from the eyelid area of the face. The cut is then closed. Then another cut is made on another part of the eyelid. Fat, excess skin, or muscle can then be redistributed to this other part of the eyelid.
Surgery is always a serious consideration. There's the cost, the risk, and the thought of permanently changing your appearance. It's a lot to take in.
If you're nervous about not knowing how you would look after surgery, you can use Instant Eyelid Correcting Strips. Using them will show you what you could look like after the procedure without getting it.
For other concerns you might have, the pros and cons listed below should help you make a more informed decision.
Pros of Blepharoplasty
Shorter Recovery Time Compared to Most Procedures
Compared to other cosmetic surgeries, the recovery time for Blepharoplasty isn't very long. After the procedure you can leave the facilities that day, and recover at home.
There are some temporary discomforts you may experience like bruising, swelling, light sensitivity, blurred vision, or watery eyes. You also won't be able to wear contact lenses or do any strenuous work for about 2 weeks.
But during the recovery period you won't be completely incapacitated, or need to completely cover your eyes with bandages.
The Results Are Long Lasting
Once the surgical procedure is complete the results can be permanent. According to Mayo Clinic, a nonprofit medical organization for medical professionals, "For some people, results of surgery may last a lifetime. For others, droopy eyelids may recur."
In either case the results are long lasting. But there are some risks that should still be considered.
Cons of Blepharoplasty
Some negative aspects and risks of blepharoplasty are common to surgeries in general, but some are specific to that procedure. Before considering surgery you should know the risks.
The Cost
Surgery is not cheap and blepharoplasty is no exception. According to a study performed by the American Society of Plastic Surgeons the cost of blepharoplasty in 2017 was about $3,026 on average.
This doesn't include hospital fees, and the cost of any time or equipment needed for recovery. It's also important to remember that many insurances don't cover aesthetic procedures.
Blepharoplasty is a primarily cosmetic procedure, so you'll likely be paying for it out of pocket.
Lengthy and Complicated Preparation For Surgery
As with any surgery you want to go through a strict vetting process to make sure the surgeon is capable and experienced. This could mean weeks or months of consultation visits and research, just to find someone you feel comfortable with.
Once you do choose a surgeon you'll need to undergo many appointments and exams in preparation for the surgery.
You'll have to undergo an initial consultation, a physical exam with extensive eye measurements, vision tests, tear tests, and finally pictures will need to be taken of your eyes.
There are multiple steps to complete in the process that could take longer than expected. Additionally you may need to do a follow up surgery if complications occur.
Risks of Potentially Permanent Damage
Every surgery comes with risks of things like infection, reactions to anesthesia, and blood clots. But blepharoplasty comes with a few more specific risks that you should be aware of.
According to Mayo Clinic the risks of blepharoplasty include:
Infection and bleeding
Dry, irritated eyes
Difficulty closing your eyes or other eyelid problems
Noticeable scarring
Injury to eye muscles
Skin discoloration
The need for a follow-up surgery
Temporarily blurred vision or, rarely, loss of eyesight
Some of these risks such as scarring and skin discoloration involve permanent changes to your appearance. Other more serious risks could even permanently impair your vision. Although these risks can be rare it's important to be aware of them.
Conclusion
There are a lot of different ways to fix uneven eyes. Surgery isn't the only option. Instant Eyelid Correcting Strips are an effective way to quickly and drastically fix asymmetrical eyes. Using makeup is an also option, and can even be used with Instant Eyelid Correcting Strips.
If you've been looking for a way to fix asymmetrical eyes check out Lids By Design Instant Eyelid Correcting Strips. They last all day and blend in perfectly with your skin. Try them for yourself to see what they can do for you.