Published Thursday Apr 27, 2023
Mono Eyelids - How to place LIDS BY DESIGN on Mono eyelids?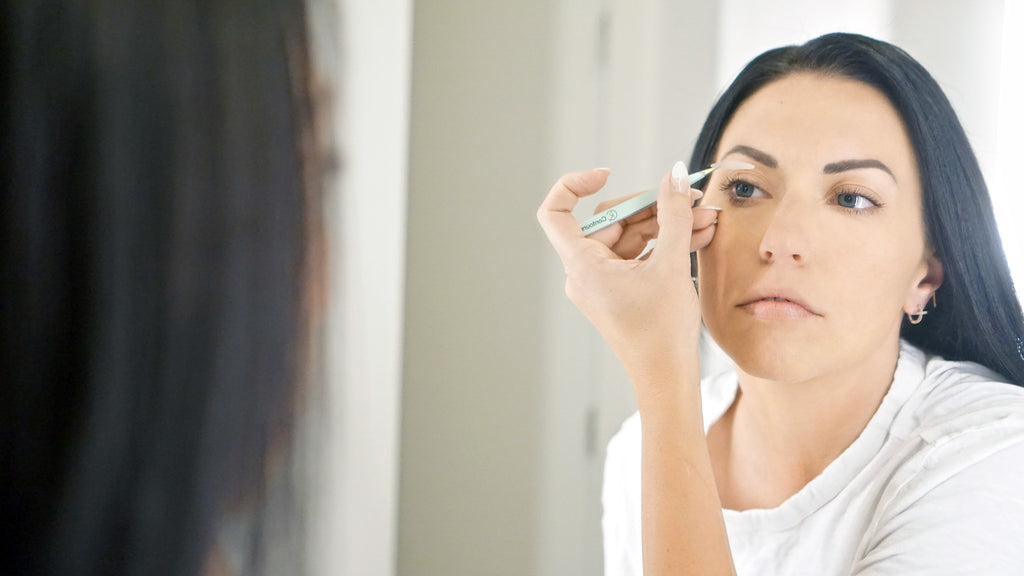 What Are Mono-Lidded Eyes?
Monolids, also known as single eyelids or epicanthal folds, are common among East Asians. They are characterized by the lack of visible crease on the upper eyelid that separates it into two parts; instead, there is an uninterrupted line of skin connecting the eye to the brow bone. Those who possess mono-lidded eyes have skin covering the inner parts of their eyes. However, they still retain the same capacity for vision as those with differently shaped eyelids.
Mono eyelids can also significantly influence the size of a person's eyes, making them appear smaller than they are. This is primarily due to their lack of creases and folds that separate the upper and lower eyelids. By decreasing the opening between lids, mono lids help create the illusion of smaller eyes.
While this shape of the eyelid is prevalent among individuals of Asian descent, it can also occur in other ancestry groups or be associated with certain genetic conditions like Down syndrome, Turner syndrome, Triple X syndrome, etc.
In most cases, mono eyelids are a normal and harmless trait that should not be perceived as anything but a natural variation. If you are someone with mono lids who wants to make your eyes look more open or bigger, you can use different strategies. Makeup that involves shading or curling eyelashes, eyelid tapes, or even cosmetic surgery are a few ways to achieve maximum impact.
Difference between Mono and Double Eyelids
The main difference between mono-lidded eyes and double lids lies in the visible crease or fold in the eyelid, between the eyelashes and the eyebrows. This crease divides the eyelid into two parts and is often responsible for giving double-lidded eyes the perception of larger eyes.
Monolids, however, don't have any visible separation between the eyelashes and eyebrows. It is important to note that mono eyelids are distinct from Ptosis - an abnormality causing the upper eyelid to droop, impairing vision, and being aesthetically unappealing. In such cases, corrective surgical intervention may be necessary.
Difference between Hooded Eyelids and Mono Eyelid
Hooded eyelids are a common condition identified by the hood-like fold of skin that entirely or partially covers a person's eye when viewed head-on in a mirror. While some people are born with this eye shape, others may develop it with age.
Though often confused with monolid eyes, hooded eyelids have creases obscured due to the excess skin beneath the brow bone. This feature results in a 'hood' effect, hence the name.
Causes for Mono-Lidded Eyes
Mono-lidded eyes, the distinctively small and round eye shape, are caused by a genetic variation in the chromosomal makeup of people with Asian heritage. They are common in approximately 50 percent of people from this region. However, epicanthal folds can be seen in infants and young children of all ethnicities before developing their nose bridge.
Some non-Asian people may have mono lids due to fetal alcohol syndrome or other genetic conditions that cause physical malformations. Fetal alcohol syndrome is brought on by pregnant parents consuming alcohol and can result in physical, behavioral, and learning disabilities in the child. The genetic conditions responsible for mono eyelids in people are as follows:
Down syndrome: 

A human baby typically has 46 chromosomes, though those with Down syndrome have one extra copy of chromosome 21. This additional genetic material can affect the baby's body and brain development in utero. People with Down syndrome often exhibit poor physical and intellectual growth that may last throughout the individual's life.
Turner syndrome:

Turner syndrome is a unusual genetic disorder found only in female babies. It occurs when one of the two X chromosomes is either completely or partially missing in a female's genetic makeup. This condition can lead to a range of medical issues, such as short stature, infertility, and heart defects in some cases.
Phenylketonuria (PKU):

Phenylketonuria (PKU) is a rare genetic disorder caused by a change in the phenylalanine hydroxylase (PAH) gene. This condition impacts the body's ability to break down an amino acid called phenylalanine. When left untreated, an accumulation of this amino acid can cause severe damage to the brain and impair cognitive development.
Williams syndrome:

Williams syndrome is a rare developmental condition that results in intellectual disability, unique personality characteristics, distinctive facial features, and cardiovascular problems in affected individuals. It is caused by the deletion of a piece of chromosome 7 at birth and is diagnosed through genetic testing.
Noonan syndrome:

Noonan Syndrome is a genetic disorder where a person's growth is much slower than others of the same age. Individuals affected by this condition experience unique facial characteristics and short stature, are affected by some congenital heart defect and may face physical disabilities and delayed development.
Blepharophimosis syndrome:

Blepharophimosis syndrome is a genetic disorder that impacts the development of the eyelids and can lead to vision-related problems. A genetic mutation in the FOXL2 gene causes it. It can cause patients to have narrow eye openings, droopy eyelids, and extra folds of skin on the inner part of the eyes extending from the bottom towards the upper corner.
How to Change Mono Eyelida to Double Eyelids
Mono-lid surgeries are becoming increasingly popular among people with epicanthal folds. Although surgeons do not readily recommend mono-lid surgery, it is one of the permanent solutions for double-lidded eyes.
Blepharoplasty, or eyelid surgery, is a procedure to permanently reshape a patient's eyelids for aesthetic and functional purposes. For those with mono lids, the blepharoplasty procedure can help to create an appearance of double eyelids by making carefully placed "creases" in the eyelids. In this procedure, the surgeon removes any excess fat or skin to ensure that the new creases remain intact after the surgery is complete.
Epicanthoplasty surgery involves reshaping the inner corners of the eyes and pushing them toward the nose to achieve bigger and brighter eyes. This surgical procedure has been proven safe and effective in making the eyes appear more vibrant. With proper recovery, following the surgeon's instructions, one can experience lasting results from this simple, short procedure.
Non-Invasive Ways to Treat Mono Lids – Apply LIDS BY DESIGN
If going under the knife for double lids feels like a big commitment, you can always rely on LIDS BY DESIGN from Contours Rx. These eyelid tapes are the safest and super easy to apply. They work the entire day, and you can even sleep wearing them.

Follow a few simple steps, and you can have double-lidded eyes in a matter of minutes:
First, clear your skin of all the makeup and oil before applying LIDS BY DESIGN.
Second, you can use an eyelid prong to find the desired area to create the new crease.
Once you identify where to apply the tape, use your tweezers to hold the eyelid tape and place it over your eyelid where you want the new crease.
Then, use the prong to gently push the eyelid inwards and set your desired new crease in place.
Finally, open your eye and hold for a second before removing the prong; this should leave LIDS BY DESIGN holding your newly formed crease in place.
LIDS BY DESIGN cosmetic strips come in 6 different sizes so you can get your ideal lift. You can now transform your eyes and give them the prominent, bright look you always wanted.
Check Out Our Product:
CHECK OUT OTHER BLOG PAGES:

Top FAQs New
What Are Mono-Lidded Eyes?
Difference between Mono and Double Eyelids?
Difference between Hooded Eyelids and Mono Eyelids?
Causes for Mono-Lidded Eyes?
How to Change Mono Eyelida to Double Eyelids?