Published Wednesday Apr 15, 2020
Comparison of Top Eyelid Tape Brands with Contours Rx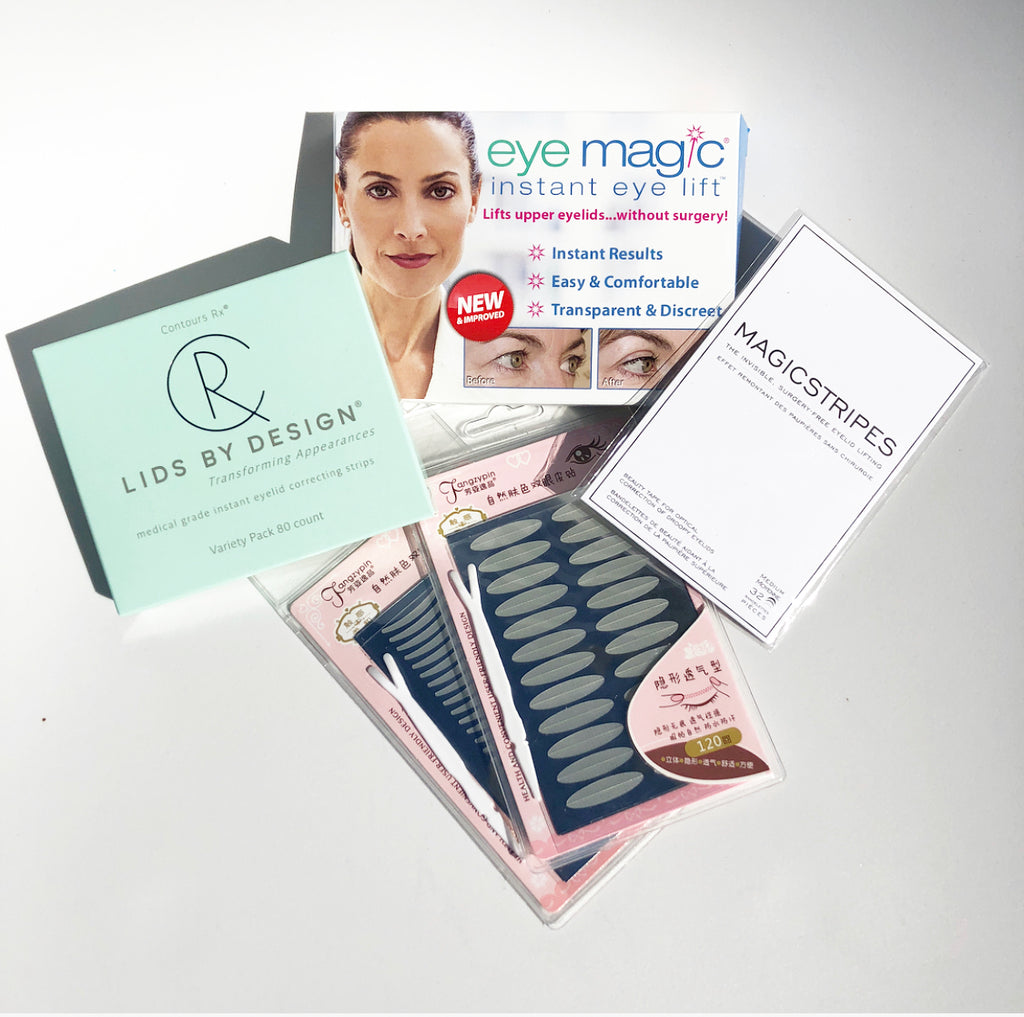 Our world is so full of option and choice, it can be difficult to know when you are getting the best of something. From hair care and body care to makeup, companies that may have similar products are not always created equal. In the last fews years, instant eyelid tape has become more and more popular. From Asian eyelid tapes to more medical-grade eyelid tapes, the options run along a spectrum of cost and quality; but are you always getting the most bang for your buck?We decided to try all of the top eyelid tape correction brands, including our own, to see what stood out the most.
1. Asian Eyelid Tapes 
Asian eyelid tapes have been around for a long time, and were made quite popular in China and Korea to give users with monolids a more Westernized eyelid. Because of their more playful use in the culture, these eyelid tapes are made with cheaper materials and glues, which cost very little to the customer. Therefore, these tapes are not latex-free, hypoallergenic, or medical-grade.
;
I applied this eyelid tape using my fingers, as instructed, and used the tool to press it into my eyelid. Because I already have a more Western eyelid shape, the results that were achieved were minimal. These tapes were more visible on the eyelid because they had little pores on the surface, which ultimately didn't end up blending with my skin tone. This brand lasted 2 hours before they began to fall off.        
2. MAGICSTRIPES 
MAGICSTRIPES have become a very popular eyelid beauty tape in the US, and is easily available on Amazon and other beauty websites. MAGICSTRIPES does not claim to be hypoallergenic, latex-free, or medical-grade and comes in 3 sizes: small, medium, and large. 
I removed the medium tapes using my fingers, as per the instructions, and placed it on my eyelid. Once again, I found that the tape was noticeable on the eyelid although it did provide a lift. I also noticed that by using my fingers, I had damaged the corners while removing the tapes, which made them more noticeable. MAGICSTRIPES lasted 4 hours before beginning to fall off. 
Something interesting and unexpected we discovered is the incredible similarity between a version of the Asian tape we purchased and the MAGICSTRIPES product. The only difference we could detect was that MAGICSTRIPES provided 32 strips for $26.00 and the Asian-packaged equivalent provided 120 strips for $3.96. 
3. LIDS BY DESIGN, from Contours Rx 
LIDS BY DESIGN stands out as the only eyelid tape on the market to be latex-free, hypoallergenic, and made from medical-grade materials. Their patented eyelid tape designs are unique to this company, their tapes are made in Germany, and they offer 6 unique sizes: from 3mm-8mm. Each box contains 80 strips.
;
I placed a 5mm tape on my eyelid using the tweezers provided in the kit. The tape easily blended into the skintone, noticably better than the other brands, and evenly contoured my eyelid. These eyelid tapes lasted all day on my eyelids until they were removed.     
4. Eye Magic
Eye Magic is the last brand we tested. This brand states they are hypoallergenic and medical-grade, but are not latex-free. This product is different in that there is an emollient gel that you are instructed to place on the tape before using it, because the tapes is too sticky to be placed directly on the eye safely. The company does not state how many tapes are in each box, but it appears to be about 60. This product is available in 4 sizes: small, medium, large, and extra-large.
I used my finger to put the emollient gel on the tape and then placed the tape on my eyelid. The gel created a wet sensation on my eyelid that remained for quite some time. The eyelid tape went on fairly smoothly but did not stick for very long on account of the gel, so it began to fall off after 1 hour. I tried the tape without the gel and as the company states, the strong adhesive makes it difficult to remove and does irritate the skin. 
Here is a breakdown comparison of our results:
| | | | | |
| --- | --- | --- | --- | --- |
| | Eye Magic | Asian Tapes  | MAGICSTRIPES | LIDS BY DESIGN |
| Hours Lasted | 1 hour | 2 hours | 4 hours | All day |
| Price | $29.99 | $3.96 | $26.00 | $40.00 |
| Quantity | 60 | 120 | 32 | 80 |
| Hypoallergenic | X | | | X |
| Latex-Free | | | | X |
| Medical-Grade | X | | | X |
| Blends in with the skin | | | | X |
| One-Step Application | | X | X | X |
| Made in China | X |  X  | X | Made in Germany  |
LIDS BY DESIGN® 
Frequently Asked Questions
Is LIDS BY DESIGN - Eyelid Tape safe to use?

Yes! The medical grade correcting eyelid tapes are hypoallergenic, latex free, have been dermatologist tested and use adhesive made from organic-based materials.

Is LIDS BY DESIGN - Eyelid Tape suitable for use by men?

Yes! Designed for use by all genders, our correcting strips utilize skin-like technology that is translucent and comfortable enough for all-day, every day wear.

Will LIDS BY DESIGN last all day?

Yes! For the longest wear, apply the correcting strip to clean, dry eyelids – free of all oils, makeup, and moisturizers. When applied properly, the organic-based adhesive is designed to last up to 24 hours. We recommend using our  Eyelid Prep Pads to prepare the skin for optimal LIDS BY DESIGN longevity.

Can I reuse the Eyelid Tape?

Each LIDS BY DESIGN correcting eyelid tape is intended for one-time use only. Strips may be reused to practice placement, but otherwise should be discarded once removed. Please do not rinse your strips down the sink!

Can I use LIDS BY DESIGN to correct bags under my eyes?

Our correcting eyelid tape are designed and intended for use only on the upper eyelid.

Does the correcting eyelid tape leave behind any residue?

No! The organic-based adhesive material separates cleanly and completely from the skin.