Published Wednesday Dec 27, 2017
Colorset Pencil Primer - Gem of Contours Rx Products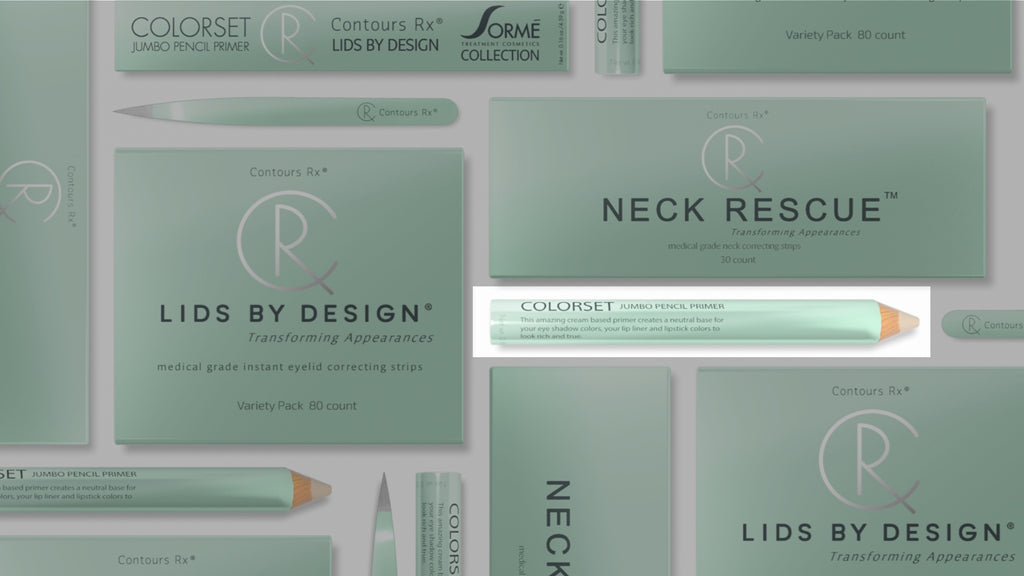 When Contours Rx expanded into the world of cosmetics, the rapid growth in popularity over their LIDS BY DESIGN correcting strips was exciting and challenging as it posed a new consideration--makeup application. Although the eyelid correcting strips blend in with the skin tone, this hypoallergenic material was also interfering with eye shadow application over the strip. Many customers and makeup artists shared their difficulties in using traditional oil-based primers over the strip, as they reduce the effectiveness of the strips' adhesive. Even if an oil-free shadow primer was used, there was still a liquid or cream texture, which also didn't synergies well with the adhesive. Contours Rx quickly learned that in order to help clients who wanted to apply shadows over their strips, they were going to have to develop a special primer to do so.
Enter Sormé Cosmetics, a prestigious company with 20 years of experience providing professional skin care and makeup. With a unique vision and top of the line ingredients, Sormé & Contours Rx partnered to create the COLORSET Pencil Primer. This primer is the first of its kind, completely oil-free in a pencil form, while maintaining the eye-defying properties of a perfect shadow primer. Sormé understood the Contours Rx vision, and extracted coco-glycerides from the naturally creamy coconut, while leaving behind the oil components. What remained was a luxurious and creamy primer that didn't interfere with the LIDS BY DESIGN adhesive. 
What's more, we discovered this pencil primer had so many more functions than simply what it was intended for. In the pencil format, COLORSET can be used as a highlighter pencil or primer for other makeup application such as lip color. It can also hydrate and help set areas of the face being primed more more complex contouring techniques. Now, more and more makeup artists and clients are discovering the benefits of COLORSET, even if they've never heard of LIDS BY DESIGN! As for our original customers who wanted to apply shadows and other makeup evenly over their LIDS BY DESIGN strips, they couldn't be happier.